~*RULES*~

1. Please reply within 3 days of my reply whether or not you decline. 5-7 days during a holiday. People who do not reply will be black-listed because I have dealt with too many fickle buyers who have ignored me in the 2 years. This is not only disappointing but rather dishonest.
2. Some prices may be negotiable, but only if they're reasonable. Please do not beg or whine, as it is unprofessional. If you see a price somewhere that is lower than mine, please tell me and I may lower my prices.
3. ONLY COMMENT IF YOU ARE TRULY INTERESTED IN AN ITEM AND CAN PAY. I had one person want to buy 8 artbooks, requested that I get all the samples and then came out and said that they only had $35, only enough for one of the artbooks.

PAYMENT POLICY

- I take payment through cash, money order, check and Paypal, but I prefer Paypal because it carries no risk of being lost in the mail. If you would like to pay through other methods, I must warn you that it carries more risk.

SHIPPING POLICY:

1. I tend to have irregular school days so I might only be able to ship on Wednesdays or Saturdays.
2. Shipping times range from 3-7 days, so please be patient. (These might be extended up to 2 weeks during holidays, so I apologize.)
3. I am not responsible for lost or damaged packages if you did not pay for insurance. Usually, for domestic shipments, you may ask me for a tracking number if available.
4. I will only ship internationally if the buyer can afford it. Flat-rate shipping is $14 (with tracking).
5. I may need to charge extra if I cannot afford mailers, please watch out for that. Boxes may be free of charge if I can obtain them.
6. "SHIPPED" applies to only the 48 mainland states of the U.S., international will cost more.



HOLD POLICY:
Because I have had a couple of buyers in the past year who have had me hold items up to 2 months and back out, as well as 2 potential buyers who were just messing with me in the past month, I will not do holds unless you can pay within 1 WEEK. 2 WEEKS to 3 WEEKS MAXIMUM IF YOU CAN PRESENT TO ME 1/3 OF THE PURCHASE PRICE AS A DEPOSIT.
I sell my items to help pay off my numerous bills and a portion of my loan every month. If I cannot make enough from sales, then I will have late payments and legal action may occur against me. Please do not make it any more difficult for me to pay bills by ignoring my replies or messages if you contacted me first.
BLACK LIST
misa3kira, Kayozia, azurewatabi (added 3/25/12)


DOUJINSHI (left to right)
Rurou
[
see doujinshi here
]
ni Kenshin: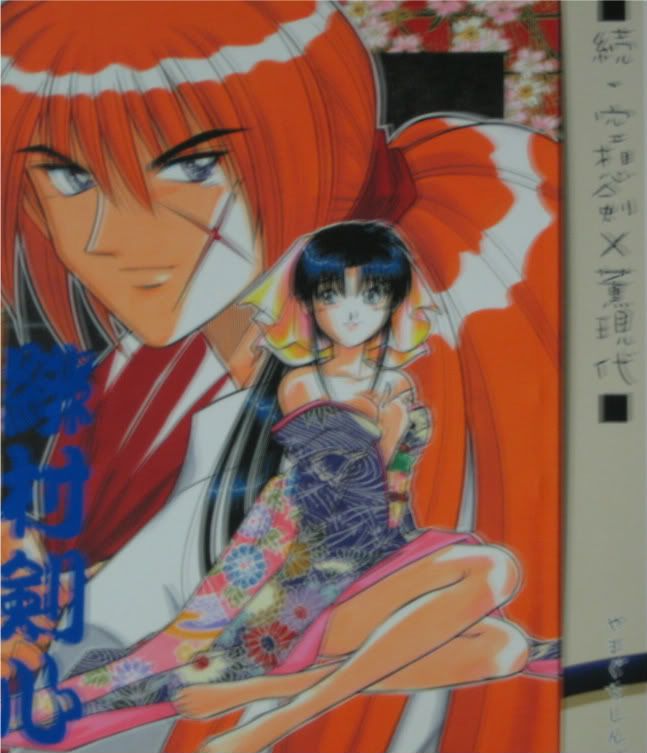 only the one on the left is available -> Happy Factory, around 30+ pgs - BEST OFFER (artwork is similar to Watsuki-sensei's)


===============> Enishi x Kaoru 9-doujinshi set - $40 $36 $30 (excluding Sano x Kenshin doujin on sale for $6)



===============>Sano x Kenshin doujinshi set - $10



TRIGUN 3-doujinshi set - $18 (excludes 4th doujin, Yamaguchirow's Shinsei)

Gundam: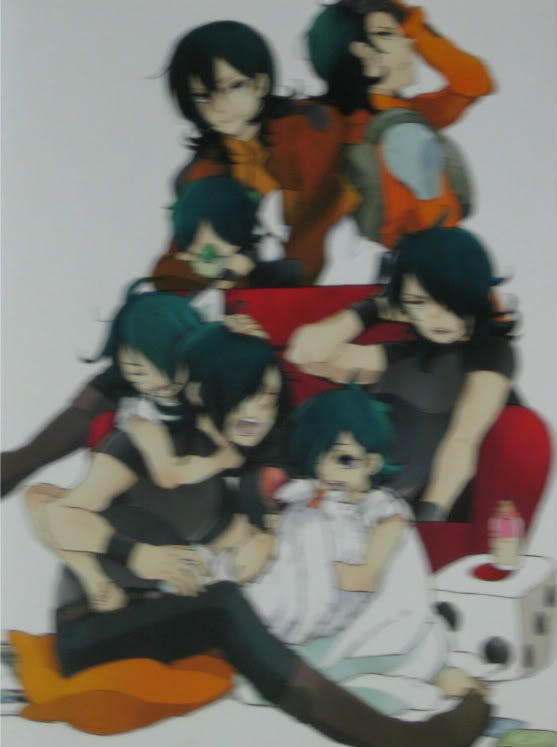 (photobucket is not letting me crop images; only the one on the left is available >__> NOT the Death Note one)
-3x3 Cross female!Shin-centric - R-15, 20~ pages, $10 (sparkly cover)
-Gundam Seed gag by Pu!Caramelruco - 16~ pages, $8 or FREEBIE IF YOU BUY 2+ DOUJINSHI (excludes sets)
-Allelujah-centric, cute + gag - 20~ pages, MINT, 1 color page, $10

JUMP: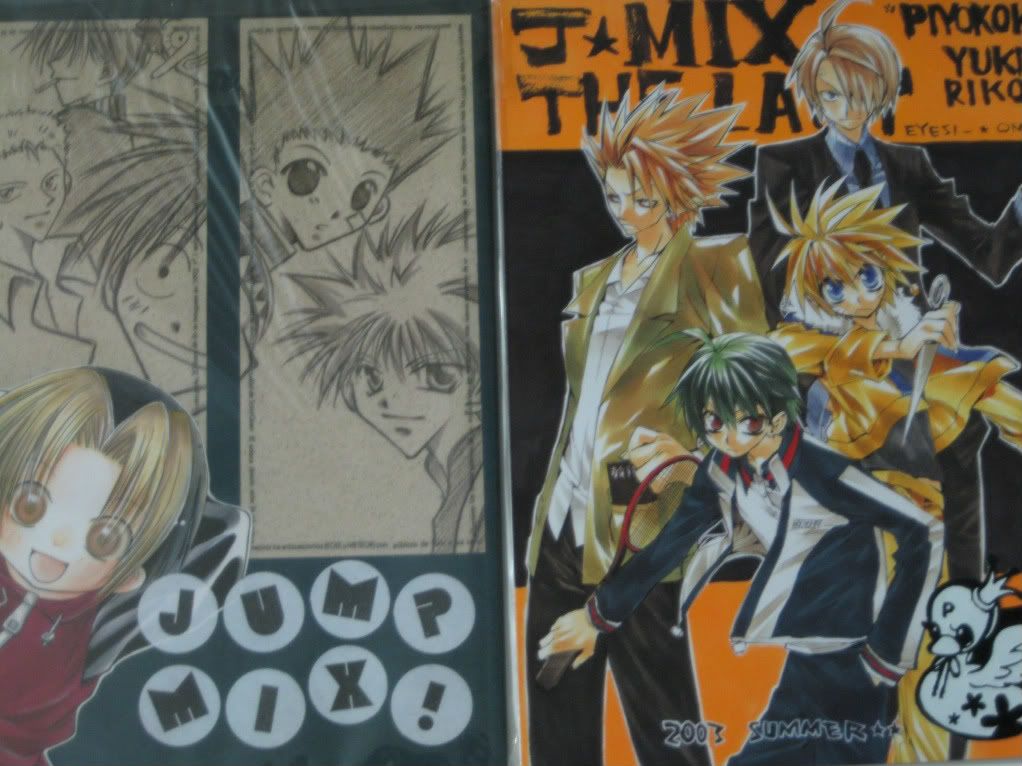 -Jump Mix! (Penguin Tanteidan + others) - 20~ pages, $8 or FREEBIE IF YOU BUY 2+ DOUJINSHI (excludes sets)
-J*MIX THE FINAL by Piyokokko - <20 pages, $10 (because it's a popular gag circle)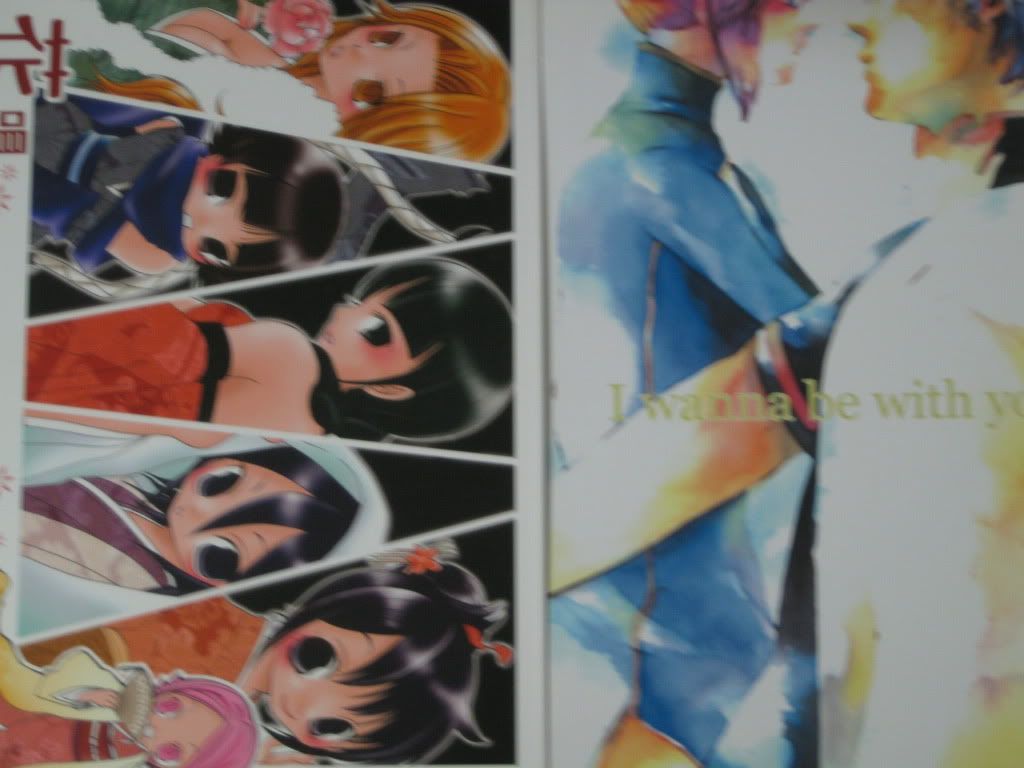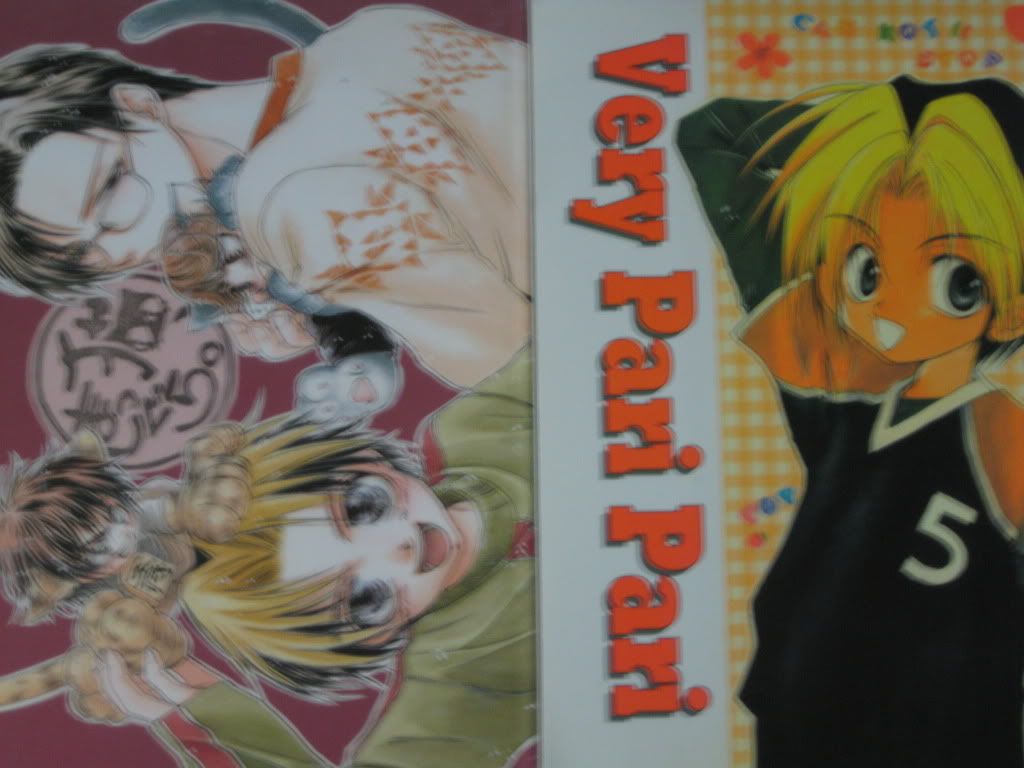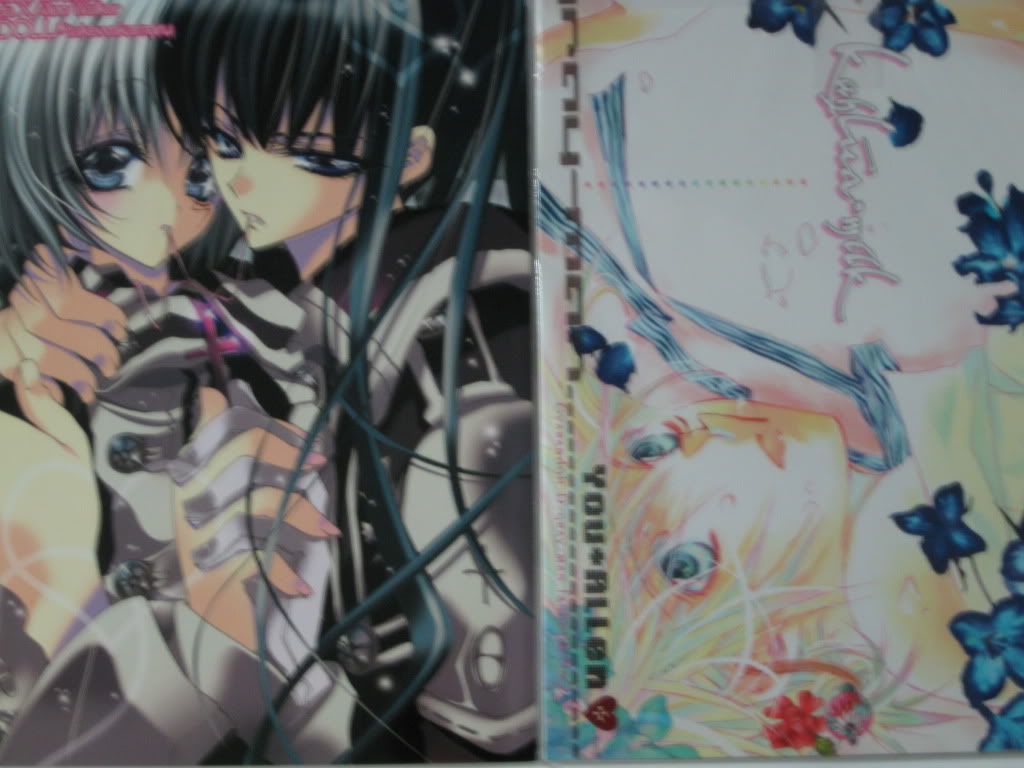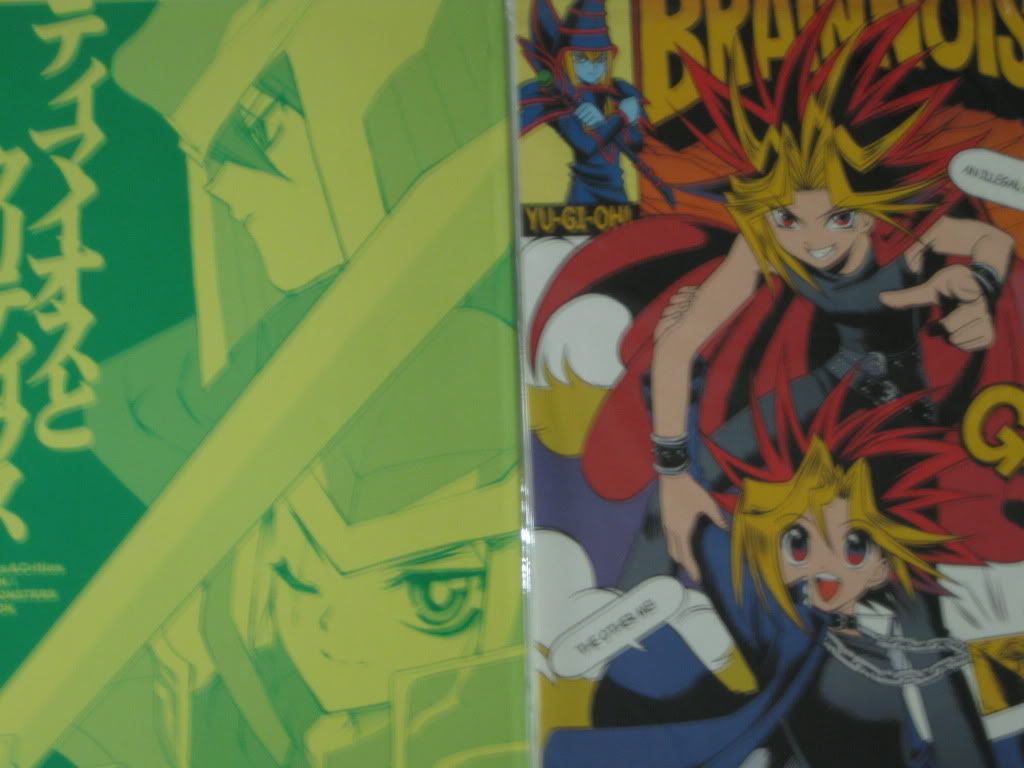 -Bleach gag doujin by CrispyDog
-Gintoki x Kagura by WATALAND
-SUMMER SUMMER by LOTUS (OkiKagu) - $16
-Bloomin' 5 OkiKagu anthology - $16
-Bon Bon Bouquet by Pu!Caramelco - $12
-Neuro x Yako doujin by FUJIKO and a guest artist - $8
- 2 cute gag Hikaru no Go doujinshi - EACH OF THESE IS A FREEBIE IF YOU BUY 2+ DOUJINSHI (excludes sets)
-Kanda x Allen R-18 doujin by RIRIADOLL
-Kanda x Allen doujin by Gyarandoh - $13
-Wonderland by Penguin Tanteidan
-cute shounen-ai Rabi x Allen gag by Pu!Caramelco - $10
-Priest Set x Pharaoh Atemu doujin by RAPAN
-Brain Noise by Hobby Hobby
-Okite Yaburi (various quality circles/artists) - 60~ pages, $18
-Okite Yaburi (various quality circles/artists) - 60~ pages, $18
CODE GEASS:
-Dalc Rose Lulu x Rolo doujin SOLD
ALL OTHER CODE GEASS DOUJINSHI ARE UP FOR BEST OFFERS
Shipping will be $4-$6, depending on quantity and location (international costs a little bit more).
My OTHER SALE is here.

Death Note nendoroid petits - $8 each ($20 SHIPPED for all 3!)
SHITAJIKI - $6 $5 each ($4.50 each if you buy 2+)


WISHLIST:
[
very long list of artbooks
]
-Katanagatari Take (author) artbook
-Takegaro Artbook 2010-2011
-Hanamura Mai Illustrations TRANSLUCENT
-TV ANIMATION鋼の錬金術師FULLMETAL ALCHEMIST原画集/ 荒川弘 入江泰浩
-Hoshino Katsura D.Gray-Man Illustrations "Noche" (English version)
-中嶋敦子画集
-ジャム 西田亜沙子画集
-渡辺明夫アニメーションデザインワークス
-鎬 霜月かいり画集
-魅(CHARM) VOFAN大人幻想画集
-薄桜鬼公式大全集 2巻セット
-おとめ妖怪ざくろ華 星野リリィイラスト集
-パンティ&ストッキング with ガーターベルト アニメーション原画集

-and more I can't name off the top of my head x.x;;;;
*SERIOUS* BUYERS ONLY PLEASE!
(I've come across far too many people who ignore me after a simple price quote ;__;)
Thank you for looking! :D
FEEDBACK